Video Production For Jeep Rental Company In Sedona Arizona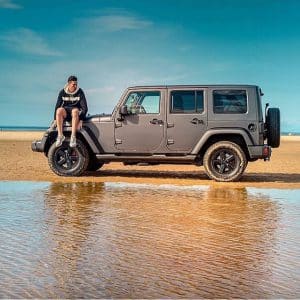 We had a blast this past week making the trip from our studio in Chandler to Sedona to shoot some Youtube videos for an off-road Jeep company that specializes in Sedona Jeep rentals. So many people think about the Pink Jeeps when they think about touring Sedona in a rental, but this experience was much different. First of all, the Jeeps are not driven by anyone other than you. This is a different business model than most of the other Jeep tour companies in the area. But before I get to spill the beans about how cool the Jeep excursion was, I want to tell you about the drone footage we took while in Sedona. Also, on an unrelated side note, we stopped to eat at the best burger joint in Sedona! Creek Side Sedona serves up some amazing food and after a day of shooting videos and driving a 4×4 through some hectic trails, a burger, and a beer sure tasted good!
DJI Mavic
The DJI Mavic was an inspiration to shoot with. We got aerial footage of the Jeep as it passed through the red rocks and navigated through the washes. The drone was able to follow us as we took a few 4×4 trails and wondered a little off the path. We reached a peak and parked for lunch, the view was amazing and lunch was even better. The 4k camera was clean and we were able to capture the splatter of the red mud as it sprayed along the side of our doors. The suspension was also covered in the clay-like mud we traveled through. We had placed a piece of plastic over the lens of the DJI to prevent mud from splattering on it when we took close up shots of the Jeep tires crashing through the muddy washes of Sedona. The DJI Mavic was the perfect tool for creating such an awesome Jeep commercial, I would highly recommend it when considering aerial footage for your next production. We used Protools for some of the audio production, learn more about Pro Tools Production tips here.
MYE Jeep
The company we produced this video for is called MYE Jeep (myejeep.com). They rent 4×4 Jeeps for people who want to have an outdoor adventure / Jeep excursion through the red rocks of Sedona without having to purchase a $40,000 dollar Jeep. It's really a cool concept, and it was a really fun video to shoot. We got to drive the Jeep up the hillside and through the mud to get the footage we wanted so there was some opportunity to play a little. Arizona is a beautiful place to spend time outdoors, and some of these destinations require an ATV or a 4×4 vehicle to navigate the terrain. This was a ton of fun, and we look forward to doing more local business like this with other outdoor adventure type businesses.